Window Film Product details – Hüper Optik
Window film product details provide the information some of our customers desire.  Window film product details include some of the following information:
General Benefits of each window film product
A star rating of Visible Light Transmission, Infrared Rejection, Energy Savings and Glare rejection in comparison to a benchmark Hüper Optik Window Film
A brief real-life example of the window film application
Detailed Product Performance and Technical Data
Applicable LEED Certification credits
Make a Window Film Product Selection from the List in each TAB
Looking for 3M Commercial Window Film Specs?
Use the tabs below to select Hüper Optik product categories.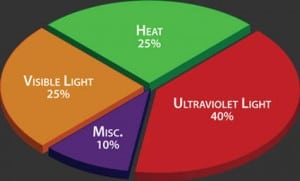 Select Series
–
Available for: Commercial, Residential
Hüper Optik developed spectrally selective technology to create a multi-layer filter that separates the suns heat, light and UV rays to provide comfort without compromising your view. By using Nano Technology, we were able to use precious metals, silver and gold, to allow in the maximum amount of light, but reject the maximum amount of heat without increasing the visual reflectivity of the glass.
Ceramic Series – Available for: Commercial, Residential
The first and only patented Nano-Ceramic window film available.
Hüper Optik researchers developed an advancement in high performance coatings through Nano-Ceramic technology. This advancement stunned the industry and allowed Hüper Optik to patent its technology in 1998. The German technology improved performance and quality beyond other solutions.  By using advanced Ceramics with Spectrally Selective technology, Hüper Optik  was the first and only patented Nano-Ceramic Window film available.
Therm-X Series – Available for: Commercial, Residential
A thermal barrier for energy efficiency.
Hüper Optik Therm-X Films use a proprietary blend of metals to create the highest performance films in their class while allowing a high amount of visible light. The Therm-X technologies create a more comfortable environment while reducing HVAC consumption. These technologies provide privacy, high heat rejection, high light transmission and great return on investment, while providing a 15 year commercial and lifetime residential warranty that will give you peace of mind.
Fusion Series – Available for: Commercial, Residential
A fusion of green technology and energy efficiency.
Hüper Optik Fusion Films use a fusion of technologies of performance, aesthetics, neutral tones, and sustainability: providing the advantages of affordability and high heat rejection. Fusion Films deliver privacy, comfort and energy efficiency year round: reducing high energy bills, preventing temperature variances and hot spots, and rejecting infrared and ultraviolet light rays.
Traditional Series
–
Available for: Commercial, Residential
High energy saving performance.
Hüper Optik Traditional series films provide energy-saving performance for commercial and residential consumers looking for reflective film properties.
Xtreme Optiks Series – Available for: Marine, Automotive
Hüper Optik Xtreme offers a blend of sophisticated style with a budget in mind. Our dye stable film is guaranteed not to fade or change colors. It is the perfect blend of aesthetics and affordability. This line is offered in 5 different visible light transmission options that will make a legal install available in all areas. This technology offers no interference with your radio frequencies or electronic control systems and will provide a color match to most factory tints.
Shield Series – Available for: Security
Clear shield and multi-layered Ceramic security window films.
Hüper Optik  Shield Window Films provide protection, well being, and comfort from the uncertain. They protect against natural catastrophes, hurricanes, explosions, vandalism, burglary, glass breakage and turbulent weather. Security films provide protection and are designed to absorb the energy from wind, flying debris, intruders and shock wave. They will provide protection against flying shards of glass from the broken window and protect the occupants inside the building.
Dekorativ Series – Available for: Commercial, Decorative, Residential
Hüper Optik Dekorativ films can provide your home or office a fresh and amazing new look and feel to your environment. These films are made from a polyester based material that mirrors the appearance of etched glass. Huper Optik Dekorativ films applied to your entry doors, bathroom doors and windows, office glass, restaurant, hospitality or healthcare glass for privacy and/or decoration can make a significant difference in ambiance, and look for your commercial or home environment.