Looking to do Something Unique for Your Client?  Design with Window Film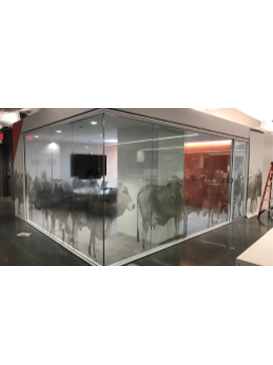 Endless Choices
Your creative choices are endless when you designing design with window film. Customize interior glass for elegance and privacy. Transform plain glass, so you can capture a certain look, or when solutions are needed for adding another level of safety & security. Clear View offers unlimited printed window film options that give designers unlimited choices to create images printed on optically clear window film.  There are literally hundreds of choices for cost-effective, energy efficient, options to enhance a buildings appearance and performance. You can do all this from a trusted source – Clear View Window Film Solutions.
Bring graphics, photos or sketches front and center to create an iconic focal point that all eyes are drawn too.  Graphics are adjustable to fit your creative vision.  Promote your clients brand and enhance their guests experience.  Exceptional optical clarity – clear portions of the film are invisible where there is no design.
Exceptional Alternative
Interior Design Glass finishes are exceptional alternatives to custom glass.  Need help with samples, mock-ups, specs and requirements?  We do that!  We deliver outstanding service and satisfaction and do everything we can to help make your window film project a success.
Transform Your Environment
Get ready to turn ordinary into extraordinary.  Using innovative printing techniques to create quality custom window films for a completely unique custom window graphic that transforms your environment.
Click here to check out our Clear Hue line of interior glass finishes