Comfort and Protection is Just Your Style – Residential Window Film Solutions
Stay cool, comfortable and energy efficient  –  Stay protected by keeping dangers outside.
Clearly, we have smart ways to bring beauty and light into your home. Residential Window Film offers comfort and protection from a dealer and brand you know and trust. Improve the performance of your windows, let the light in and enjoy the view with Hüper Optik™ Window Film and Clear View Window Film Solutions.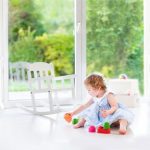 Live comfortably in every room of your home.  Whether you're concerned with excessive heat and glare, faded furnishings, security or privacy, we have residential window film to help you enhance the comfort of your home.
By reducing the amount of heat gained through transmission of sunlight, window films let in natural light you love while rejecting heat and UV rays.  Window films can help lower your energy costs, eliminate hot spots, reduce glare and protect your furnishings – all without affecting your view.
There are a lot of reasons to install window film, but yours is the most important one.
What's your reason?